Connect Our Ministries and Mission
St. John's United Methodist Church is committed to advance the Gospel of Jesus Christ by leading all to experience God through outreach mission and ministries: Preschool, Vacation Bible School, Walk to Emmaus, Seaford Community Food Closet, Love Inc., Angel Tree ministry, card ministry, GriefShare ministry, Boy and Girl Scouts, Cubs, Music ministry, Operation Christmas Child, Thrift Shop, United Methodist Men, United Methodist Women, Thanksgiving for Thousand, and Light it Up Blue/Autism Speaks.
We are so blessed with the growing children's ministry.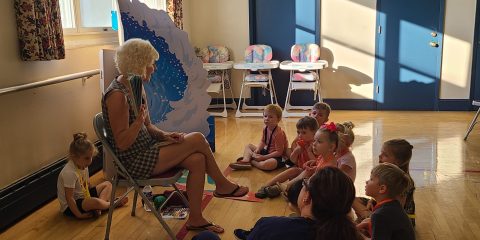 Our Sunday School recently adopted a new series which takes both the younger and older class through the entire Bible in three years.
This ensures that all of our Sunday School children have a solid biblical background, whether they enter as three year olds or seven year olds. We aim at developing their desire to serve the Church and the community. Presently we have only two classes: three years to 2nd grade and 3rd – 8th grade.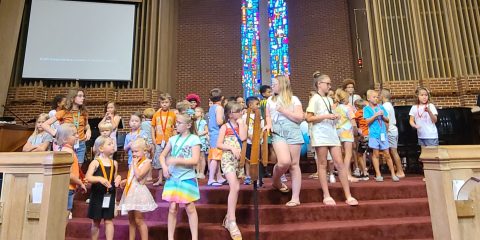 "With a Voice of Singing" St. John's Sanctuary Choir presents choral anthems and cantatas, and leads the congregational singing of hymns and other service music. Glorifying God and supporting the liturgy through music is the mission of the music ministry at St. John's traditional service. Director, Doug Rhodes, draws from an extensive library of music and provides organ or piano accompaniment. Our volunteer SATB choir rehearses weekly on Saturday morning and on Sunday prior to the service. Opportunities for individual and small group singing are available and encouraged. St. John's music ministry also supports the Rings of Fire handbell choir. This three to five octave bell choir enjoys using bells and chimes with surprising special techniques to play hymn transcriptions, along with original works by leading composers of handbell music. We welcome new members who share our love of Christian music and fellowship into one or both choirs.
Seaford Community Food Closet
The mission of the Food Closet is to provide emergency food relief to individuals and families encountering hardship in the greater Seaford area. It is funded solely through food and monetary donations and is maintained 100 percent by volunteers.
The St. John's Community Thrift Shop, a non-profit organization, continues to be the hands and feet of Jesus Christ. We continue to provide for the needy and offer quality used merchandise at affordable prices to donate to Nanticoke Young Life, Salvation Army, Love Inc., Seaford/Blades Associated Charities, and Feeding Thousands.
The St. John's United Methodist Men serves in numerous ways: assembling the handicap lift and building ramps; helping food distribution for the feeding the Thousands Project at Thanksgiving; Boy Scout Troop 249; Lifetime Wells to drill wells and provide clean water in African villages; Peninsula Delaware Conference for the Bishop Weaver Congo Partnership Agriculture Project; and help with local scholarship funds to attend Camp Pecomoth. Join our meetings on the 2nd Monday of the month at 6:00 p.m. in Fellowship Hall.
At St. John's Preschool, our goal is to produce happy and well-adjusted children. Here you will find a nurturing, educational environment for children of ages 2-5 years. We recognize that each child has unique talents, learning styles and personalities. Our teachers and staff are committed to working within each child's comfort zone to ensure optimal social, emotional and educational results. It is the mission of our Christian based preschool to provide a structured, developmentally appropriate values-rich program for preschool aged children. St. John's Preschool is a state-licensed facility meeting all standards for children's health, safety and well-being in a Christian setting.
When people do their grief work with this faith-based program, the journey to move forward can be easier. We provide both seminars and 13 weeks' sessions for those who have experienced the pain of loss. Grief Share, Surviving the Holiday's and loss of spouse are being provided. We continue to offer support to grieving individuals under the excellent leader Chandra Lucksho who is specialized in pastoral counseling.
Connect Our Ministries and Mission
We invite you to use your gifts by serving our church and community. Feel free to contact us with any questions by using this form.